Why I am the Best Realtor for the Area
DARCY McCLARY: A little bit about me
Deep Cove Specialist
As a resident of the Deep Cove, Dollarton, Blueridge, East of Seymour area since 1982, I have seen both of my children go through the Elementary Schools and High Schools of the area, as well as Capilano University and SFU. They have been involved in soccer, skiing and snowboarding, golfing, sailing and swim clubs. I can give you first hand knowledge of what it is like to raise a family in the Deep Cove-East of Seymour area.
As a Realtor who has specialized in the East of Seymour community since 1984, I know who the Buyers are, who is thinking of selling, and the unique characteristics of the homes and communities within our area. My strong marketing strategies create great exposure and promote excitement around my listings. As a top real estate agent in Vancouver for over 25 years specializing in North Vancouver east of Seymour, I know exactly what it takes to get top dollar and fast.
East of Seymour: A little about the area
After living here for 28 years, it starts with the amazing views and hikes on the Bayden Powell trail and it comes together in the coffee shops and Honey's Donut's patio where the community welcomes you in.
Deep Cove - East of Seymour is an active and eclectic neighbourhood surrounded by parks, trails, beaches ski hills and golf courses. Lit trails interlink the neighbourhoods together and forest trails offer some of the best mountain biking in the world. Any given summer day you can see sailboats and kayakers zipping around Deep Cove's waters, as well as people swimming at the child safe beaches.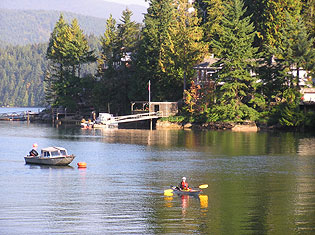 If you are looking to buy or sell in the Deep Cove- East of Seymour area, call the Neighbourhood Expert that lives and works here, Darcy McClary!